Navigation:
Home
> Adventure Experiences
Adventure Experiences
Choose Your Own Adventure. AEI Base Camp offers wilderness adventure camps and retreats for groups of all ages, sizes and backgrounds. We value each groups' goals and objectives and therefore, work with each group to plan the perfect adventure. While the average trip ranges from five to seven days, together with you, we can design a program of any length to meet your group's specific needs. Our remote wilderness location affords a unique opportunity to experience a multitude of adventure programs. These activities are hosted in such a way as to develop and strengthen your group's spiritual, mental and physical capacity.
Over the years, we have hosted camps and retreats for:
Youth groups
School groups
College groups
Adult Bible study groups
Singles groups
Women's and men's groups
Father/son groups
Mother/daughter groups
Sunday school classes
Campus ministry groups
Various leadership groups
Corporate groups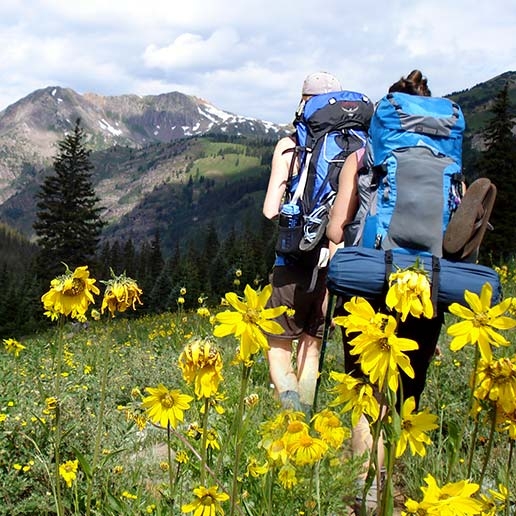 Backpacking
Backpacking in the Rocky Mountains of Colorado is the ultimate adventure. Leave behind electricity and modern conveniences and experience the raw beauty and majesty of nature.
Learn unique skills as you live out of your backpack and live in a true wilderness environment. We can create the perfect trip to suit your groups' experience level and objectives.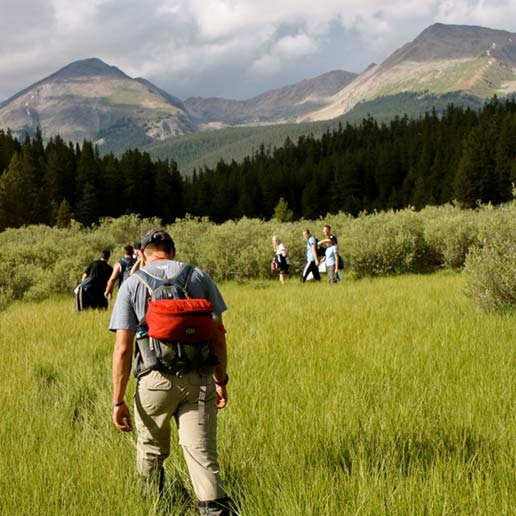 Hiking
Literally surrounded by hundreds of miles of hiking trails, AEI Base Camp offers trails and routes of all sizes and shapes. We've got it all, from easy family strolls to more difficult high elevation treks.
No matter what type of hike you determine is right for your group, you will be surrounded by some of the most majestic mountain views in the world!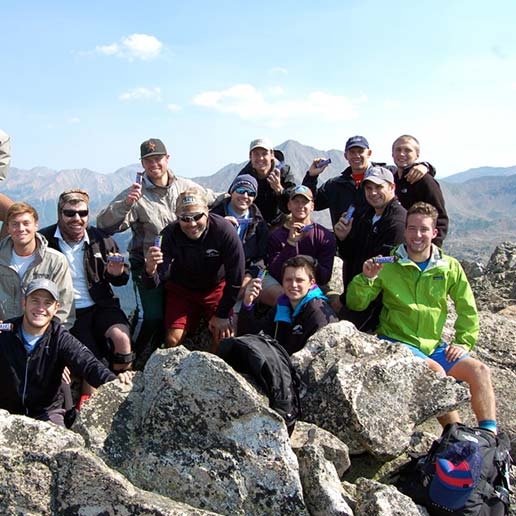 Mountain Peak Ascent
We have a variety of high octane mountain peak ascents for you to choose from. From moderate and mild to extreme and difficult, Taylor Park is surrounded by many 12,000 - 14,000 ft. moutains.
Be challenged and inspired as you attempt to climb to the top of a rugged mountain. If you make it, we promise, the views won't let you down.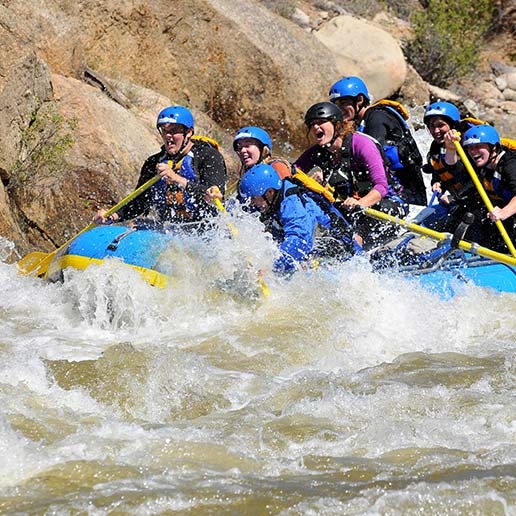 Whitewater Rafting
With awesome whitewater on several nearby rivers, floating a river through challenging rapids can up the adventure on your trip. We can arrange whitewater rafting trips of various levels on the Taylor River, the Gunnison River or the Arkansas River.
You can choose between easy Class II floats to more difficult Class III and IV rapids.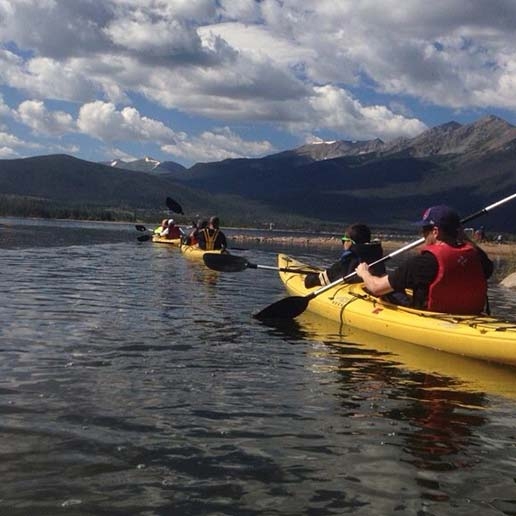 Kayaking
We are blessed to have Taylor Reservoir close by. With over 20 miles of shoreline, the lake offers perfect opportunities to explore its boundaries with a kayak.
Choose a 1/2 day kayaking exploration or a full-day excursion with a shore lunch as an add on to your adventure. The mountain vistats surrounding the lake are breathtaking.
Limited participants.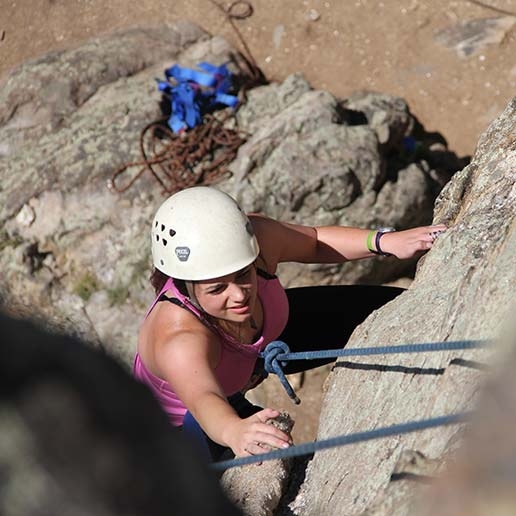 Rock Climbing
Have you ever thought about how cool it would be to rock climb. Have you ever wondered if you have what it takes? The reality is that anyone can do it. Our routes in Taylor Canyon offers a variety of difficulty levels to choose from.
Rock climbing combines a significant level of trust (gear, belayer, etc.) with physical and mental challenge.
Adventure Racing
Learn how to use a map and compass on this adventurous team-building experience. With basic orientation priciples learned, your group will be racing other groups in search of the most check points (20 total).
Each check-point has an engaging team-building activity that must be competed before you are off to the next one.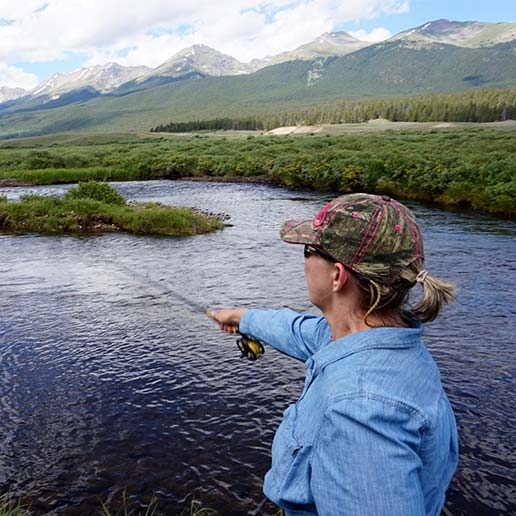 Fly Fishing
With over 100 miles of rivers and streams nearby, AEI Base Camp is central to world class fishing. We can teach you the basics of fly fishing techniques and send you out to test your skill. Fly Fishing is a relaxing and enjoyable way to spend time in God's creation.
Catch and release is practiced and participants are limited.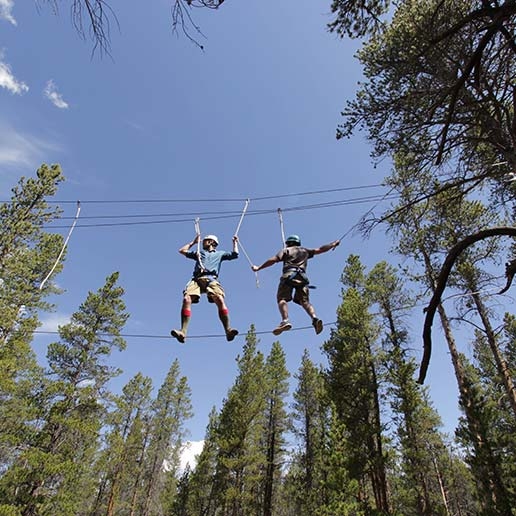 Challenge Courses
With high element courses and low element courses, AEI Base Camp can create great personal and team building situations and initiatives. Our high element teams courses allow you to work together to accomplish the goal.
All of our adventure courses and elements are located onsite. We also offer challenge elements such as the tandem Power Pole.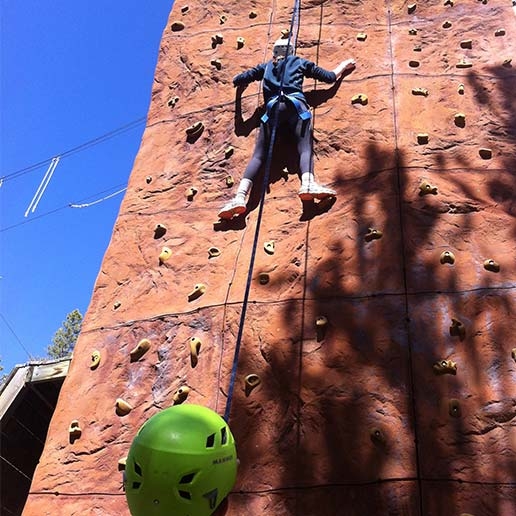 MegaTower
AEI's MegaTower offers a multitude of fun and challenging elements. With a tandem Zipline, a Giant Swing, and all four sides covered in climbing holds, it's easy to spend the day engaged, challenged, laughing and screaming!
Our awesome and well trained Guide Staff have been certified to facilitate your safe MegaTower adventure.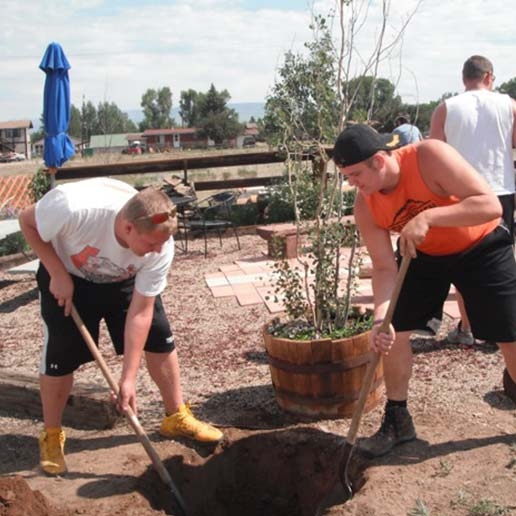 Mission Opportunities
AEI Base Camp is more than just having fun and being challenged personally. If you wish to invest some of your retreat time into serving others, we can help you plan those opportunities.
Often groups want to help serve and participate in work projects at AEI Base Camp or in one of the local communities in the Gunnison Valley.